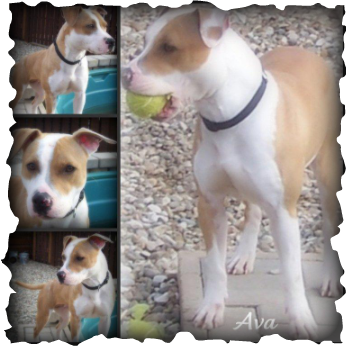 Meet Ava!  Ava is  currently living with Sioux Empire Pit Bull Rescue in Sioux Falls, SD.  Here's what their website has to say about this playful girl.
Extra sweet Ava comes to us as a stray from SE Cedar Rapids. She is a 2 year old female 41lb. pit bull. She was found with evidence of frostbite, was treated, and is now doing just fine. This is a wonderful young adult……………it is evident that she had a litter of puppies at some time, Ava has been a favorite since she came to the shelter. Sweet is the best way to describe her. She was worried the first day but has been enjoying meals, companionship, and attention from staff and volunteers. She has quickly turned into a very happy dog and will be an amazing companion for some lucky person/family.
Are you looking for an all-around good dog?  Meet Ava!  She is doing very well in her foster home and is looking forward to starting a whole new chapter of her life in your home!  Ava shows great patience with other dogs and even with the resident cats.  While she is quite curious about the cats, she is not aggressive with them.  Ava is drama free!  Ava plays well with her canine  foster brother and sister. She would do well in a house hold with a nice male fur companion.
Now that the temperature is warming, she has  been working on her leash manners.  With the help of her Gentle Leader, she's a breeze to walk.  The squirrels and rabbits grab her attention, but she can be easily re-directed to continue on with her exercise.  Although Ava has not been to obedience classes, she has learned good doggie manners while in her foster home.  She sits politely when asked and waits patiently for the signal to "chow down"!  Ava is house trained and crate trained.  She can spend up to 8 hours in her crate during the day without any messes.  Just give the girl a chewy bone, or a peanut butter stuffed kong and she kennels right up.  Currently she is not interested in toys, but does love to play and wrestle with one of her other foster friends.  Ava responds quickly to a stern "no" or the sight of a squirt bottle.  With her easy going personality, Ava could fit right into any family.  Ava is very patient with children and would love a new home with kids to keep her company.
Ava has a histiocytoma on the top of her head.  Research says that it may go away on its own or need to be surgically removed.  It doesn't bother her, but we will be having it looked at towards the end of April with possible surgery.  All of the expenses will be covered by the rescue.  SEPR is dedicated to our dogs long after they have gone to their forever homes.  We are only an e-mail, text, or phone call away should any questions, or concerns should arise.  We are there for guidance and direction every step of the way.  Just one of the many perks to adopting from SEPR!
VIDEO OF AVA CAN BE VIEWED HERE!
If you're near South Dakota, contact the shelter via e-mail to rachaelleighton AT yahoo DOT com to meet Ava and all of her friends.  If you're somewhere else, check out PetFinder's Shelter Center for adoptable dogs in your area.
Until next time,
Good day, and good dog!

Similar Posts: