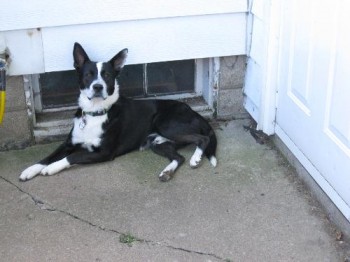 Meet Dinger! This young Border Collie mix is being fostered in Saukville, Wisconsin courtesy of Tailwaggers 911. Here's what their website has to say about him:
Hi my name is Dinger! I'€™m a sweet boy who came all the way from an overcrowded shelter in Georgia to find my forever home. I'€™m a Border Collie mix so I do have some energy but I'€™m also very laid back. All I need is a good walk and some play time and then I'€™m ready to relax on the couch with you. I love going on walks but need a little work on my leash manners. I could be a great jogging partner for someone eventually! I'€™m very smart and know basic commands. I'm also house-trained and crate-trained. I learn quickly and I only need to be told "€œno"€ once if I'€™m doing something naughty.
I get along well with everyone and I currently live with 3 other dogs and a cat. I probably would be better with older children just because of my size and energy level. I love to chew on bones and toys but let you take them away from me easily. I also like to run and sniff. I love when my foster family takes me to the park. I like it with my foster family but I really can'€™t wait to get a family of my own. I promise to be a good boy and a very loyal and loving friend. I'm a little under 2 years old, about 55 lbs and am neutered and up to date on all my shots.
If you're going to be near Wisconsin, why not contact Tailwaggers 911 to ask about Dinger and all of his friends. Call 262-617-8052, send an e-mail to [email protected] or fill out their online application.
If you're somewhere else, check out PetFinder's Shelter Center to locate adoptable dogs near you.
Until next time,
Good day, and good dog!
Similar Posts: