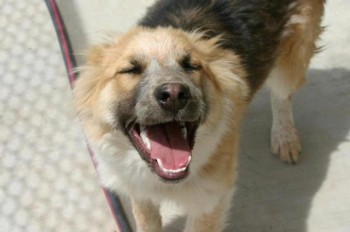 Meet Sam I Am! (Wonder if he likes green eggs and ham – my favorite Seuss book!) Don't you love his smile? Sam is in foster care in Albuquerque, New Mexico, with EnchantMutts, Inc. Here's what their website has to say about this Border Collie mix.

This is Sam – Sam I Am! This fun-loving, laughing boy was out of time at a rural shelter and how happy we are we saved him! He is a mix of great fun – lots of giggles and grins – great energy, and most importantly, he is the ultimate optimist!
Sam is about six months old and a mix of Border Collie and Heeler with perhaps a bit of shepherd thrown in. He currently weighs in at about 35 lbs. and we suspect he will probably get to about 50 lbs. He is a beautiful boy with a wonderful mid-length coat and is learning all the basics – quickly. Loves his toys and loves other dogs (cats are unknown) and always ready for a game of tag or rough and tumble. He is always smiling – it's just his nature. He has a silly grin he uses when he really wants something and is learning the ropes of being an inside-outside dog (already has the doggie door down!). He is getting the hang of walking on a leash and has sit and lay down already in his pocket – smart little boy! He and Tater Tot spend their time wrestling and playing tag; he would do really well with another doggie companion in the house!
Sam is going to be a great companion for some lucky family and will need a family to continue his training, keep him on his toes and allow him to be all he can be. Because he is a puppy, and yep, clumsy and full of himself, we prefer a family without small children (under 7).
Sam is almost ready to go to his forever home and spread his optimistic view with his family
If you live in New Mexico, why not contact EnchantMutts and ask to learn more about Sam and all of his friends. Contact Kristi at [email protected] or call (505)980-7827.
If you're somewhere else, check out PetFinder's Shelter Center to locate adoptable dogs near you.
Until next time,
Good day, and good dog!
Similar Posts: