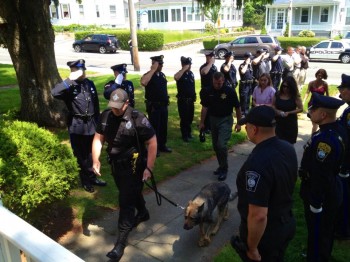 Yesterday I posted a picture of a police dog saying goodbye to his partner who had been killed in the line of duty. It seems only fitting that today I post about officers saying goodbye to a K-9 partner who had to be put down.

Patrolman Jamie Lebretton took the dog's death hard, and has been particularly poignant in his posts on the Plymouth Massachusetts Police Working Dog Foundation Facebook page:
"It is with deep regret and sorrow that I announce the retirement of my partner K-9 Kaiser. Kaiser was recently diagnosed with severe kidney disease/failure leaving his health to decline rapidly. Kaiser battled this disease with vigor and toughness like I have never seen before. Although, as of late, the disease has taken the upper hand forcing him out of his craft and ultimately out of this world. Kaiser taught me more about myself and my profession than I could have ever taught him. I feel privileged to have had a front row seat to witness his bravery and heroic actions while serving the people of Plymouth and my brothers and sisters in blue. Although his career was short lived, he made a huge impact that will never be forgotten. Kaiser loved being a Police Dog and I will miss him dearly. Out of love and respect for Kaiser, and with the input from our excellent vet, trainer, and family, I have made the heart wrenching decision to end Kaiser's suffering."
He later posted the following after the picture went viral:

"RIP my boy. I could not have asked for a better partner or friend. May you rest easy and wait for me at that sacred bridge. I will be there my friend. I will be there. I will never forget you or our accomplishments. You made me a better person, a better handler, and a better cop. Till we meet again kai. I love you and will miss you daily.
…And to my boys and blue. Never in my career have i ever been so proud. You out did yourselves today. I could not have asked for a better send off. Kaiser truly was part of the department and loved being a police dog. My fellow K-9 handlers, you are a cut above and showed everyone what being a handler is all about…our pups. I thank each of you and you have my respect forever.
Kenny Ballinger and Marc Higgins, thank you for being there for my family and i as we weathered the storm. It was difficult, but i gained strength through you.
Lastly, to all of you who sent your regards over the past few days…I thank you. I read every single post and listened to every message. Kaiser served you well and the streets of Plymouth were safer when he was on patrol. The compassion was overwhelming and i am humbled at the support from perfect strangers.
God Bless you all."
There is such a bond between police officers and their K-9s, possibly even stronger than the bond most of us have with our companion dogs.
RIP Kaiser, and our thoughts and prayers are with you, Patrolman Lebretton.
Until next time,
Good day, and good dog!
Similar Posts: