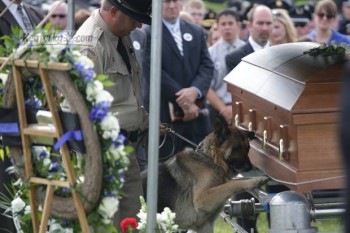 If you're one of the few people on the planet who hasn't yet "liked" the Brimfield Police Department's Facebook page, here's what you're missing. (Note: Brimfield is a very small town in Northeastern Ohio, yet their page has more likes than most major metropolises. A big reason why is posts like this one from Chief Oliver.)

Chief's Babble….on the picture.
Pictures tell the stories of our lives….and sometimes our struggles and…deaths. The picture of Figo the K-9 at the casket of his partner is perhaps one of the most moving pictures I have ever seen. It may be more so than other pictures, for me, because I have such a love for police dogs. I know dogs serve in lots of ways; however, my exposure has always been with police dogs….
When I took over as chief I told Sgt. Knarr (he was a patrol officer at the time) to find us a dog. He did. Shortly after I was sworn in as chief, K-9 ACE joined us. He was a knuckleheaded little fur-ball….running around the department biting uniform pants (while the pants were being worn) and chasing all of us around. He grew quickly and became a dynamic police dog. His life was cut short due to an illness. When we put him down, that small vet's examine room was full of crying cops….
We now have four police dogs and we will never be without close to that number as long as I am chief. They are just too valuable to our mission…and too loyal to us to be without them. If you have never seen a K-9 unit at work, you are missing some of the best interaction between a dog and his/her partner ever. Sgt. Knarr has K-9 Havoc now. When they walk into a room it is astounding how close attention Havoc pays to every sound or movement Sgt. Knarr makes….he is absolutely tuned in.
When a K-9 unit works, the results are amazing. I have personally seen Havoc, Joker and Drogen find drugs, people or evidence when a human officer did not stand a chance of finding anything. Joker once tracked a bad guy for two miles nonstop…. through grass, a swamp, through a creek, the woods and then right to the back door of the mope's house. "Knock, Knock"…. Havoc has found a gun thrown away by a bad guy, a bat used in an assault and thrown away….and once tracked for over two miles across every imaginable surface to find someone who had ran from officers because of felony warrants. Drogen and Nitro will not be too far behind these older dogs….they are displaying young brilliance every day.
I'm not sure why I am babbling about the four-legged K-9 officers, with the exception of seeing that picture….It was just heartbreaking. I love our dogs and absolutely adore when they come running into my office… jumping up on me, my desk and "displacing" my phone, calendar and nearly everything else.
We would not be the same department without our hairy dog cops…..Gooood Boys………Chief Oliver
What else can I say?
Until next time,
Good day, and good dog!
Similar Posts: