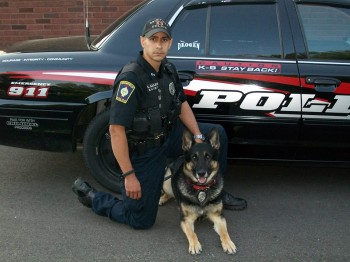 Congratulations to the K-9s of the Brimfield, Ohio Police Department. If you haven't yet "liked" their Facebook page, you're really missing out. Chief Oliver is da bomb!
A K-9 Unit Update…..
We are pleased to inform you all that K-9 Havoc and K-9 Drogen both passed their national certifications yesterday. Police K-9 units must be state certified by completing testing as outlined and designed by the Ohio Police Officers Training Academy. National certifications are not mandatory; however, we like all the training and testing we can get…it keeps us sharp.

Yesterday, K-9 Havoc and his human, Sgt. Knarr completed testing administered by the North American Police Work Dog Association. The team earned national certification in the utility category by passing tests in tracking, evidence recovery, drug detection, apprehension, area search and obedience.
K-9 Drogen and his human, Officer Allen, earned national certifications in drug detection, tracking, evidence recovery and area search.
K-9 Nitro is still a little young for national certifications, but he did enjoy the show. It won't be long….
K-9 Joker, who is semi-retired, was at home napping. "Been there, done that," he said. He did roll-over, groan and go back to sleep….
Great job to all officers and dogs!…..Chief Oliver
Until next time,
Good day, and good dog!
Similar Posts: