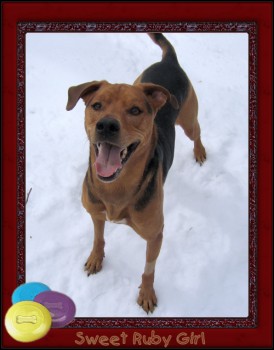 Meet Ruby! Ruby is currently living in a foster home for Good Dog Rescue in Arlington, VA. Here's what their website has to say about this 7-year old mixed breed.
Ruby is a very sweet girl who loves to run, loves to sleep, and LOVES her Frisbee and her tennis ball.
This sweetie pie is perfectly housebroken and can be left unsupervised or crated. She walks well on a leash, and she's beautifully trained and obedient… but she does expect you to reward her with a treat now and then!
Ruby gets along great with people of all ages, cats, and other dogs. She's happy snuggling with people, playing with dogs, or sleeping in her bed by the fireplace.
This happy girl would be a great addition to a big family with kids and other pets or she would be just as happy being a buddy to a one-person household.
Ruby is a Rhodesian Ridgehound.  What, you never heard of a Rhodesian Ridgehound?  It's the newest designer dog — like a Labradoodle or a Cockapoo — a Rhodesian Ridgeback mixed with a Black and Tan Hound.
If you're going to be near Virginia, why not contact Good Dog Rescue and schedule some time to meet Ruby and all of her friends.  Call (703) 626-7410 or e-mail info AT gooddogrescueva DOT org.
If you're somewhere else, check out PetFinder's Shelter Center to find adoptable dogs near you.
Until next time,
Good day, and good dog!
Similar Posts: