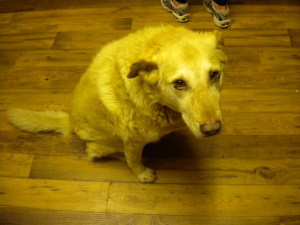 Meet Charlene, otherwise known as Charlie.  She is currently being fostered by Mixed Mutts Mixed Breed Rescue in Auburn, CA.  Although they don't have their own independent website, they provide the following information about Charlie via a PetFinder's post:Charlene "Charlie", our velcro baby: strawberry lab & chesapeake mix, 80#, tolerant of cats, likes other dogs. Charlie is a protective girl who will attach herself to one member of the house and become your best friend. She loves and responds to everyone but will sleep right next to your bed at night, your feet while watching TV or studying, or follow you around the house and yard. She loves water, car rides, and walks!!! Charlie is sensitive to fighting/yelling. She will bark and cower in a corner but if her "owner" is in trouble, she will dance around pushing away the offender. (don't worry little ones, she's never hurt anyone… she's just loud). Charlie likes to play chase, especially with kids. She would prefer to be exclusively indoors but handles the out-of-doors just fine, however, you will have to endure the sad, pitiful face upon exiting.
If you're near Auburn, why not contact Mixed Mutts to set up an appointment to meet Charlie and all of her friends.  You can call 916-206-1137 or drop an e-mail to [email protected]
If you're somewhere else, check out PetFinder's Shelter Center to find adoptable dogs in your area.
Until next time,
Good day, and good dog!
Similar Posts: