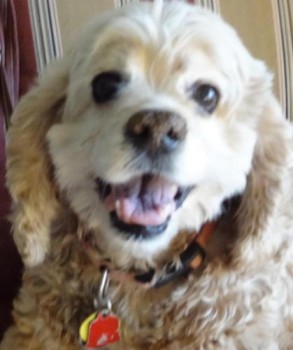 Meet Sheba! This beautiful little Cocker Spaniel is living in Gilbert, Arizona courtesy of Cast-off Cockers. Here's what their website has to say about this cutie.
This sweet young lady goes to all people and happily so. She loves to be petted and given back scratches and belly rubs. She also loves to be brushed. While 6 yr old Sheba likes her walks, she is also a closet couch potato. She likes to watch TV with her foster mom and get belly rubs. Where ever you are, she will follow. Sheba is spayed, fully vaccinated, parasite-free and has her microchip. She is reliably house trained, crate-trained, catching on quickly to the doggy-door, which was new to her and she walks very well on a leash.
If you're going to be near Arizona, why not contact Cast-off Cockers an arrange to meet Sheba and all of her friends. Drop an e-mail to [email protected] or download an adoption application.
If you're somewhere else, check out Petfinder's Shelter Center to find adoptable dogs near you.
Until next time,
Good day, and good dog!
Similar Posts: