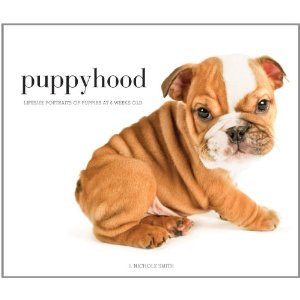 Who doesn't love puppies? This whole book from photographer J. Nichole Smith is full of life-sized portraits of beautiful little pups.

Here's the jacket blurb: Puppyhood showcases adorable puppies in life-size photographs taken at six weeks old. The book itself is oversize at 13 by 11 inches, allowing enough space to bring each of these little ones to life. Twenty-five breeds are captured in engaging photographs, showing all the details that make puppies so irresistible, from their pink bellies to their tiny teeth, soft ears, and oversize paws. The book features the most popular breeds, including the French bulldog, Labrador, golden retriever, and Parson Russell Terrier. Puppyhood is a unique gift book for dog lovers everywhere.
See a sampling of the photos on People Pets. Trust me, take the time to follow the link. The puppies are gorgeous!
Until next time,
Good day, and good dog!
Similar Posts: