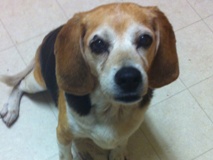 I've finally found my favorite shelter – one that is dedicated only to BEAGLES! (The very best dog around, as far as I'm concerned.) I'm thrilled to feature them on this week's Shelter Sunday, and to introduce you to Honey. This beautiful girl is being fostered in Austin, Texas by Hound Rescue. Here's what their website has to say about her.

Honey is the sweetest beagle! After being sprung from the shelter, she has a new lease on life! She is very loving and surprisingly active for her age! She is a total cuddle bug! In the bed or on the couch it doesn't matter to her – she just wants to be by your side! She is getting along wonderfully in her new foster home with her 2 doggy friends and her new kitty. Honey is a typical beagle that loves to eat, and explore trash cans, and of course she loves to go on walks. She is housebroken, but definitely enjoys the freedom of her doggy door. Honey is not too keen on being in a crate and would much rather sleep in the bed with her human. She is currently on meds to clear up a temporary skin condition that is almost completely healed. Honey is just a great gal that would love to find her new home and cuddle partner!
Honey is 11 years old, spayed, and microchipped.
If you're going to be near Austin, why not contact Hound Rescue and arrange a time to meet Honey and all of her friends. Send an e-mail to [email protected]
If you're somewhere else, check out PetFinder's Shelter Center to locate adoptable dogs near you.
Until next time,
Good day, and good dog!
Similar Posts: