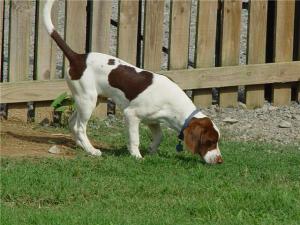 This is Bo, a beagle currently living in a foster home for Just Us Beagles and Friends.  It's no secret that I love beagles, so when I searched the state of Arkansas for a shelter to feature here, this was a natural fit.  And isn't this a great picture?  Just like I've said several times – Beagles are simply noses with feet!

Here's what Bo has to say for himself:
I'm Bo. My mommy got taken to Animal Control while I was still in her tummy. Just Us Beagles rescued her just before we were born. Everybody got adopted, but my person brought Tug and me back because we were a little rowdy (o.k. a lot). I'm all grown up now and settled down, My mom was a tiny Beagle, but I'm a little bigger. I love to sit in a chair and cuddle and I really love attention and there are too many of us here. I would love to have a home all my own.
And here's a little bit about Just Us Beagles and Friends:
Our Goal is to:
Rescue homeless and unwanted Beagles and other dogs as space permits.
Vaccinate all rescues against disease and provide needed health care.
Fight pet overpopulation by spaying or neutering all rescues.
Adopt rescues to responsible and loving homes, giving dogs the second chance they deserve.
Provide lifetime shelter and care to any rescued dog that is not adopted.
If you're near Alexander, AR, why not contact Just Us Beagles and Friends to check out Bo and his buddies by e-mailing Support AT JustUsBeaglesAndFriends DOT com.  And if you're somewhere else, stop by PetFinder's Shelter Page to find a lovable homeless dog who is looking for someone just like you.
Until next time,
Good day, and good dog!
Similar Posts: