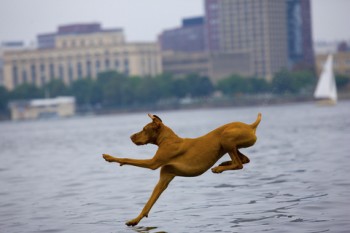 I think I found out what they mean when they say "Dog Days of Summer".  Yes, it's been hot here, but that's not the true meaning.  We spent all day Saturday entertaining Maggie and Cooper (although we four-leggers had a good time, too.)
We started out at a dock diving demo at Grafton, Ohio's Forever Friends.  This place is amazing!  It's not only an animal hospital, it's also a boarding and day care facility, pool therapy provider, and training place.  They have both traditional boarding in large kennels, and deluxe boarding in rooms that actually have four walls, a bed, and a television set.
Out in front of the building, they have a small pond with a dock.  Although we still can't get our dogs to jump from the dock, they did enjoy going in for a swim from the edge of the pond.
My friend Debbie went for a swim, too!  I wish I'd had a video camera with me – it was hysterical.  She had Cooper on his leash, trying to coax him back into the water when Bella (a friend's black Lab) came charging into the pond to get her toy.  Bella didn't see the leash and crashed right into it, knocking Debbie over.  Deb said she was scrambling with her feet, trying to stay upright, but of course I couldn't see that from shore.  To me, it looked like a tree falling in the forest, only in slow motion.  I wanted to yell, "Timmmm-berrrrrr!"
Bella's dad felt really awful.  He dropped his phone and went running toward the pond to try to help.  Good thing, since I was laughing so hard I was useless.
After everybody dried off, we took the dogs back to Bow Wow Beach to let them run off-leash.  (The only thing I hadn't liked about the morning was that the area wasn't fenced, so we had to keep Cooper on his leash.)  As usual, they had a great time at the beach.
It's really something to get Cooper into an area that large (7 acres) and see him stretch out his legs and really run.  He almost looks like a Greyhound.  And my ancient Maggie, who very seldom plays anymore, actually ran for awhile with some of the dogs.  I thought she'd be sore this morning, but she looks pretty good.
There was one dog there that we decided must've had the dog equivalent of a "Kick me" sign on his back.  As soon as he walked in, about seven dogs surrounded him and…um…hounded him the entire time he was there.  I never did figure out why!
So, that was my Saturday.  How was yours?
Until next time,
Good day, and good dog!
Similar Posts: