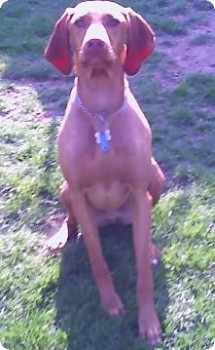 If you've been reading this blog for very long, you know that I am fascinated with the sport of dock-diving, and that I have a Vizsla named Cooper.   Well, I'm so excited!  We've decided to enter Cooper in a dock-diving competition this weekend.
I'm not sure he'll even be interested in the water, but Vizslas are supposed to be good water retrievers, so we'll see.  I went yesterday and bought a bird decoy, as well as a football, to use as a throw toy.
If you're not familiar with the sport, it involves lining up your dog at the end of a long dock, standing at the water end of the dock, then calling the dog so he runs down the dock.  As the dog approaches the water, you throw a toy into the water, hoping the dog will take a flying leap after it.
Cooper is entered in the Big Air competition, which means he will be jumping for distance.  The goal is to travel the farthest in the air out over the water before splash down.  Other events are Extreme Vertical, where the dog jumps up to try to grab a suspended toy before falling back into the water, and Speed Retrieve, which measures how long it takes the dog to swim out from the dock, grab a toy, and swim back.  For more info on the sport, go to Buckeye Dock Dogs.
If you're interested in meeting Cooper and will be in the Central Ohio area, come see us at the Columbus Pet Expo this weekend.  I'll post his results and some pictures early next week.  We're jumping him Friday afternoon, and I'll be there most of the weekend.  Look for the one in the doggies.com T-shirt.
Until next time,
Good day, and good dog!
Similar Posts: