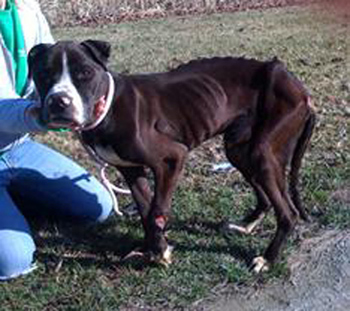 I posted yesterday about Chance, a dog found by the side of the road after being horribly abused.  As it turns out, the man who rescued Chance from the side of the road is a contractor for AEP, where I work my day job.  (Byron Tate works at AEP's Cook Plant.)   The rescue has been given lots of space on our in-house website, and today I found out that another AEP employee saw Chance when she took her own dog to the vet.
From the AEP Intranet:
"I had to take my dog to our vet yesterday for her heartworm and what did I see popping his head over the counter in the vet's office? Chance!
"He was heavily bandaged where they removed his leg but he was alert and greeting people and animals as they passed by. Talking with the receptionist she said that he's made a miraculous recovery and was happy and moving around the day after surgery! He's doing so well that they will begin his inoculations and increasing his calorie intake.
"He's truly been given a second 'chance' thanks to Mr. Tate. The vet technician said the support from the community has been phenomenal and asked that I take back a message to the people at Cook that Chance is doing great!
"Once he's back to his normal weight and recovered from his injuries, he'll be adopted by a good, loving family. And there have been LOTS of families asking to adopt, myself included!
"It's incredible how a dog that so mistreated can still be loving and sweet to humans. A lesson we could all learn from."
It's good to know that Chance is making a full recovery.  Evidently, on the same day Chance was brought to the Humane Society, a red Pit Bull was also brought in after horrible abuse.  More info here.  The Pit is currently in guarded condition, but public support has been so overwhelming for Chance that there was enough money left over to treat the Pit as well.  A happy outcome all around.
Until next time,
Good day, and good dog!
Similar Posts: