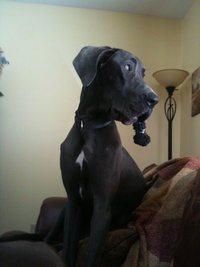 Can't wait til this Sunday. Two of my most favorite things are teaming up for what looks like an awfully fun day.  July 10th at 2 pm is Great Dane Day at Bow Wow Beach in Stow, Ohio.
If you've never been to Bow Wow Beach, it is a small-ish lake (or large-ish pond) totally enclosed by fencing so the dogs can play off-leash in the water.  Cooper has a blast every time we take him.  And knowing that there'll be all kinds of Danes there will just make the experience that much better.
Thanks to Mike Eisengart for sending me the invite! Join us if you can.  If not, I'll try to get some pix posted here, or at least refer you to Bow Wow Beach's Facebook page to see them.
Until next time,
Good day, and good dog!
Similar Posts: