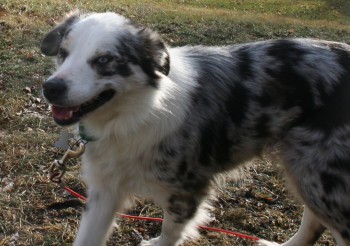 Meet Blitz!  Blitz is a 2yo purebred blue merle Aussie girl. She's has one blue eye, one brown eye and a docked tail. She was turned in with Lillie at the shelter, as an ex breeder dog. She is a rambunctious little gal for sure and we are working on getting her to stay down, she loves to jump on people! She is really a great dog, especially when she settles down.  She loves to cuddle when she does settle down and she always has kisses to give.  She is a little slow to warm up to some men, but loves women.
Blitz is pretty good with cats and other dogs.  Potty training has been a little rough; it seems like she can't hold it very long during the day, but at night she does great with no whining and no accidents. Blitz seems to be experiencing some things for probably the first time. She was frightened by a flight of stairs when she first arrived at her foster home and, when giving her treats, she doesn't take them right away. She is very curious about noises and smells and stares at the TV when it's on! We have also noticed a little aggression; she likes her own space when she wants it and she's pretty protective of her food. However, she quickly stopped growling when we got her attention away from it.
Blitz is being fostered in Austin Minnesota, a guest of New Spirit 4 Aussie Rescue.  If you're interested in meeting Blitz and all of her friends, contact the rescue via e-mail at
meredevice AT hotmail DOT com
.
Good day, and good dog!

Similar Posts: