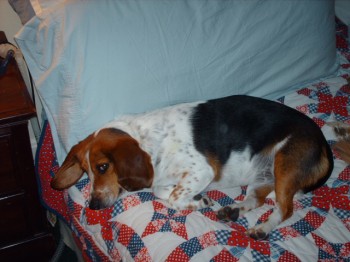 When I asked my son what I should write about today, he said he wanted me to write about how Penny (my beagle, that Jimmy thinks is his) scratches on his bedroom door to get in at night.  We started talking about how dogs talk to us, which of course Jimmy pointed out that they cannot do.  The more we talked the more I was convinced I could come up with at least ten ways our dogs communicate, so here goes.
10.  Scratching on doors to get in
9.  Pawing at us to get us to pay attention
8.  Nudging our elbows to get petted
7.  Bringing a "prize" (e.g. dead animal) to show us what good hunters they are
6.  Cuddling with us to cheer us up
5.  Wagging their tails to let us know they like whatever is going on
4.  Sitting down & digging in their heels when they don't want to go into the vet's office
3.  Putting their tails between their legs to let us know they are scared
2.  Jumping up to welcome us home.  (Maybe that's only at my house, where the dogs are poorly trained!)
1.  Looking at us with those big brown puppy dog eyes to let us know they want whatever we're eating
How do your dogs communicate with you?
Until next time,
Good day, and good dog!
Similar Posts: