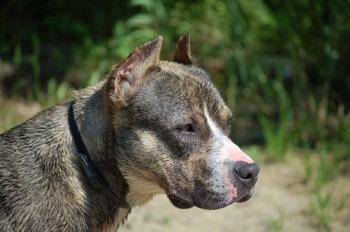 Those of you who are totally against Pit Bulls need to read this heartwarming story from the Humane Society shelter in Redmond, Oregon, where a 10-year old blind Cocker Spaniel named Chadwick was adopted in November.
Somehow Chadwick escaped from his adoptive home about a week ago and began wandering around Redmond, trying to find his way home.  With his lack of eyesight, and with a snowstorm burying all the scent hints he might have otherwise followed, Chadwick ended up in a ditch one block away from the shelter where he had been living prior to his adoption.
Enter shelter volunteer Alan Borland, who was walking dogs Monday morning.  After walking five other dogs, he took out a Pit Bull mix named Nala.  Although Nala walked the same exact route as the other five dogs, she would not allow Alan to pass by a ditch.  She kept pulling him toward the ditch, so he finally allowed her to go where she wanted to.
Looking into the ditch, Alan saw a small ball of fur.  Sure that the dog was dead, he went back to the shelter to find someone to help him.  Lo and behold, once they got the dog cleaned up and rehydrated, they realized it was their old friend Chadwick, and they were able to reunite him with his adoptive home.
A wag of the doggies.com tail to Nala.  It's nice to hear good news about Pit Bulls for a change!
Until next time,
Good day, and good dog!
Similar Posts: