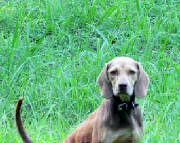 Meet Barbie! You know I'm a sucker for the hounds. Barbie is currently living in Broken Bow, Oklahoma with ARK, Animal Rescue and Kare of McCurtain County. Here's what their website has to say about this pretty girl.

Barbie is a young adult female. She loves other animals and people. Super affectionate and wants to be right with you. She will be spayed and vaccinated soon.
For those of you who collect cookbooks like I do, copies of ARK's cookbook, Recipes to the Rescue, are now on sale! The ARK cookbook has been reprinted and is for sale to raise funds for ARK. The cookbook contains many tasty and easy recipes for people food and some great recipes for dog treats. To obtain cookbooks to sell, come to a meeting or contact Robyn Batson at 580-584-9123. Personal copies may purchased at 1st Bank and Trust in Idabel and Broken Bow, Wright Ideas (formerly Videoland in Broken Bow) and at ARK meetings.
If you're going to be near Oklahoma, why not contact ARK and ask to meet Barbie and all of her friends. Call 580-236-2275 and complete the online adoption application.
If you're somewhere else, check out PetFinder's Shelter Center to find adoptable dogs near you.
Until next time,
Good day, and good dog!

Similar Posts: