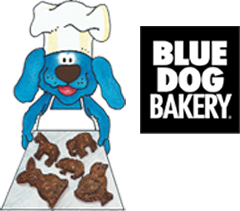 We've had  a frequent commenter lately here on the doggies.com blog, who always wanted to make sure we knew of her dog's love for Blue Dog Bakery cookies.  I was curious, so I asked if I could do a product review for them, and they quickly sent me three boxes of their all-natural cookies.
First of all, I have to say that all four of my dogs absolutely loved these treats!
However, it's important to note that a treat advertised as "all-natural" doesn't necessarily mean the treat is healthy for your dog.  In this case, they don't have a lot of protein, which is the primary type of food your dog needs.
In the same way that people cookies could be made of carob and other all-natural ingredients, but still not be particularly good for you, Blue Dog Bakery Treats are all-natural, but not particularly healthy.  In moderation, as with most things, they are fine for your dog, but care must be taken not to overdo the treats, which have very low nutritional value.
That said, these treats don't contain all kinds of ingredients you can't pronounce, like most grocery story brands do.  For example, the Milk Bone treats I currently have on hand contain artificial colors, preservatives like BHT, propyl-gallate, and citric acid, ethylenediamine dihydroiodine, and a dough conditioner called sodium metabisulfite. However, the Milk Bones also contain vitamin supplements, including E, B12, and D3.
Milk Bones' ingredient list contains nearly 40 items, while the Blue Dog Bakery Treats' entire ingredient list is:
Unbleached wheat flour, whole wheat flour, black strap molasses, palm oil, whey, nonfat milk, oats, natural caramel color, egg powder, salt, baking soda, natural peanut butter flavor, brewers yeast.   (Peanut Butter & Molasses Flavor)
The guaranteed analysis of the two is:
Blue Dog                                                                     Milk Bone
9%                   Crude Protein (Min)                            15%
6%                   Crude Fat (Min)                                  5%
2%                   Crude Fiber (Max)                              3.5%
6%                   Moisture (Max)                                   12%
So, bottom line:  the dogs loved it, and for those of you who are into health food, Blue Dog Bakery does provide a way to treat your dogs  without giving them artificial preservatives, colors, and flavors.  However, I'm not sure I believe all the press about "better for your dog".  They are, after all, COOKIES.
Until next time,
Good day, and good dog!
Similar Posts: