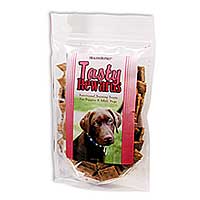 Several of you have commented about serving your dog healthy food, whether it be a premium commercial food, home-cooked, or raw.  That's great for his regular meals, but what do you do for treats?  It's sometimes hard to strike a balance between rewarding your dog for a job well done and allowing your dog to get too fat.
I just learned about a line of dog treats from Healthy Pet Net (the same people who make Life's Abundance pet food) that are specifically designed by a vet to provide your dog with a healthy snack.  According to their Web site, these treats were developed by Dr. Jane Bicks, DVM to include the wholesome and nutritious ingredients your best friend needs.
 They have Tasty Rewards, a treat to use for training, made from free-range, farm-raised chicken and venison.
 Another option are their baked treats, available in anti-oxidant bars, dental treats, and low-fat Wholesome Hearts.  The anti-oxidant bars include apples, peanut butter, honey, oatmeal, cranberries, and carrots with vitamin E, vitamin C, and beta-carotene.  The dental treats are made from whole grains and include calcium and phosphorous for strong bones and teeth plus parsley to freshen your dog's breath.  Wholesome Hearts Treats have no artificial colors or flavors and are fortified with L-Carnitine to help the body burn fat.
Finally, for those who really, really want to treat their dogs, they have pork treats.  Porky Puffs have no artificial colors to stain your carpet and are more easily digested than rawhide.  Porkhide Bones are made from 100% natural pork skin.    
What's neat is that you can sign up for Auto-Ship, which means you never have to lug home your treats (or even your dog's food) from the store again.  They simply send you your order automatically, based on the time frame you choose.  So, if you go through a bag of food every month, you set your Auto-Ship option to 1 month, and you will come home to find a bag of dog food on your porch right when you need it.  It couldn't be more convenient.
The other cool thing is that when you feed high quality food and treats with lots of protein and very little fat, your dog can digest all of the food, and very little of it ends up in your back yard.  This means that your dog gets full benefit of every ounce of food, resulting in your having to feed less than you normally do.
Yes, their products are a bit more expensive than what you are probably buying now, but isn't your pet's health worth it?
You can learn more on the Good4Pets Web site.
Until next time,
Good day, and good dog!
Similar Posts: