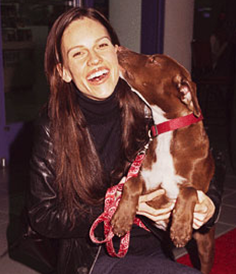 The Associated Press is reporting that Academy Award winner Hilary Swank will partner with Iams'  Home 4 the Holidays Pet Adoption Campaign.  Their goal is to send 1.5 million shelter pets home in time for the holidays.
Although I never think pets under the Christmas tree are a good idea, I applaud this campaign because they are targeting the dates from October 1st through January 4th, so it's not specifically targeted at giving pets as Christmas presents. 
Swank who lives with a cat, rabbit, several parrots, and a mixed-breed dog named Karu, points out that the older animals often found in shelters have "already gone through a lot of the training that cam be challenging for people." 
Kudos to her for getting involved!
Until next time,
Good day, and good dog!
Similar Posts: