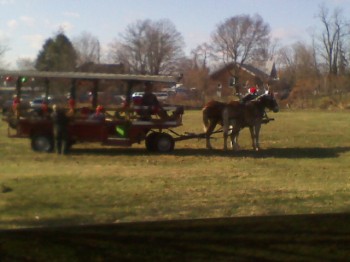 Shelter Sunday will be just a little different this weekend.  I spent the holidays with my Mom in Southwestern Ohio, and as one of our outings, we went to the tiny (think 2-sided stop signs) town of Shandon, Ohio.  As part of their annual Christmas in the Country festival, they had a dog parade featuring some of the dogs available for adoption at the Animal Adoption Foundation in nearby Ross, Ohio.
So, instead of featuring just one of their dogs, I thought I'd show you all of the photos I took while the parade was being formed up.  Keep in mind that some of these dogs live with forever families in the town of Shandon, while others were brought from the shelter specifically for the festivities.  As you'll see, some of them were shy or just too darn busy to pose for me, so we got pictures of the wrong end of the dog, but you'll get the idea.
My apologies to these pups for not remembering all of the names.  I do remember that the Basset is named Alice and the dog in the pink tutu is named Nitro.  (I remember this because when I said, "Poor Nitro!  Your mom dressed you up like a girl!" I was assured that Nitro is a girl, but her daddy named her.)
Thanks to the good people of Shandon and the AAF for showing us a great time.  If you're going to be near southwestern Ohio, why not contact the AAF to meet some of their adoptable pets.  You can call them at 513-737-PETS (737-7387) or send an email to aafpetsATyahooDOTcom
If you're going to be somewhere else, stop by PetFinder's Shelter Center to find adoptable pets in your area.
Wondering about the picture at the top of this post?  It's the um… "reindeer" who led the parade!
Until next time,
Good day, and good dog!
Similar Posts: