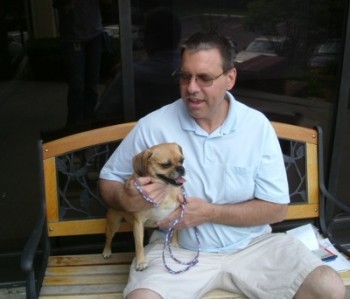 I love reading stories about successful dog adoptions, especially when they involve veterans. Pets for Patriots reports that Coast Guard vet Al was suffering from depression when he saw a news story about the Pets for Patriots program that matches shelter dogs with veterans. The organization also with the adoption fee and veterinary expenses.

Al found a puggle named Charlotte at the Michigan Humane Society and now says, "I couldn't ask for a better buddy. She's the best girl friend I've ever had."
One of the best things about adopting a shelter dog is that many of these dogs are past the puppy stage. Charlotte had already had some basic obedience training and was fully house-trained before Al took her home.
If you're a vet looking for company, take Al's advice: "I couldn't be happier with the difference that Charlotte has made in my life. Pets for Patriots made the pet adoption process a really positive experience for me. Get over to a Pets for Patriots shelter and find your best buddy today."
Until next time,
Good day, and good dog!
Similar Posts: