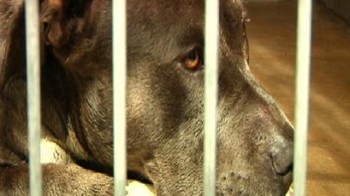 October is National Adopt-a-Shelter Dog Month, so we bring you these top ten reasons why you ought to head out to your local shelter or rescue and find your new family member today!
10.  Concerned for the planet?  Adopting a dog is kind of like recycling
9.  Shelter dogs give you unconditional love.
8.  Shelter dogs make great work-out companions.
7.  Rescued dogs are (usually) already housebroken.
6.  Adopting a rescued dog helps solve pet overpopulation.
5.  Shelter dogs not only warm your feet at night; they also warm your heart.
4.  Shelter dogs are generally much less expensive than purebreds.
3.  Adopting from a shelter helps put puppy mills out of business.
2.  Older dogs from a shelter may be past the stage of chewing all your shoes.
1.  Can't settle on a breed?  You can see many different breeds, including mutt-i-grees at your local shelter.
To find adoptable dogs near you, visit PetFinder's Shelter Center.
Until next time,
Good day, and good dog!
Similar Posts: