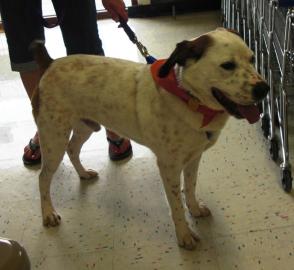 Meet Francis! Francis is a two-and-a-half year old Pointer mix who is currently living with a foster home through A Heinz 57 Pet Rescue in Adel, Iowa.
Francis (a/k/a Frankie) is a great boy! He is house trained & crate trained and knows basic commands. Francis loves people and gets along well with other dogs. Cats are an unknown. Francis is a happy, well-adjusted boy that is ready to move right into a forever home. He thinks you should skip right past the puppies and bring home an awesome dog that requires little more than a good meal, shelter, and love.
If you would like to adopt this pet or would like to meet him/her, please fill out the online adoption application. Once the application is submitted to AHeinz57, you will be contacted by an adoption coordinator from AHeinz57.
All pets adopted thru AHeinz57 Pet Rescue & Transport, Inc. are spayed/neutered, micro-chipped, and brought current on vaccines prior to adoption.
Adoption Fee: $175.00
Contact us:
(515) 834-2635  or [email protected]
*Please note all volunteers have regular day jobs. Please be patient.
If you're near Adel, why not make an appointment to see Frankie.  And if you're somewhere else, check out PetFinder's Shelter Center to find an adoptable pet near you.
Until next time,
Good day, and good dog!
Similar Posts: