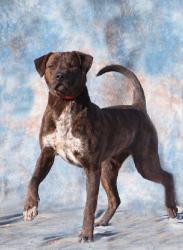 Meet Rowdy!  Ya gotta love a dog named Rowdy.  And doesn't he just look like he fits his name?  This beautiful boy is being fostered by Dog Town Canine Rescue in Carson City, NV.  Here's what their website has to say about this handsome boy.
Rowdy is a happy young man who has a lot of energy and affection. He's got a great personality, gets along with other dogs, and loves to play.
Rowdy would do great with a bit of training, but he's very smart and eager to please so we have high hopes for him.
Dog Town says "recycled dogs are our specialty", but they not only foster and rescue dogs, they are also politically active, with links on their site to breed specific legislation and puppy mill information.
If you're near Nevada, why not contact Dog Town and ask to meet Rowdy and all of his friends.  Send an email to [email protected] or call 775-230-3703.
If you're somewhere else, stop by PetFinder's Shelter Center to find an adoptable dog near you.
Until next time,
Good day, and good dog!
Similar Posts: