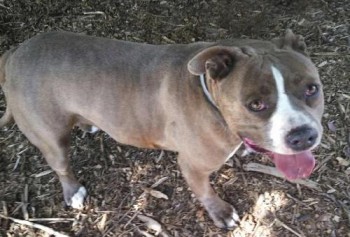 Meet Barney! This beautiful American Pit Bull Terrier is currently living in Henderson, Nevada, courtesy of Southern Nevada Bully Breed Rescue. Here's what their website has to say about him.

Barney is a short & stocky American Bully and typical of this type he an absolute charmer! He passed his temperament test with flying colors! Good with other dogs and all humans, Barney is perfect family companion dog.
Brindle with White
Coat length: Short
Moderately Active
Neutered
Grooming Needs: Low
Good with Dogs
Good with Older/Considerate Kids Only
Good with Adults
Owner Experience Needed: Species
Reaction to New People: Friendly

If you're going to be near Nebraska, why not contact Southern Nevada Bully Breed Rescue to meet Barney and all his friends. Send an e-mail to [email protected] or fill out an online application.
If you're somewhere else, check out Petfinder's Shelter Center for adoptable dogs near you.
Until next time,
Good day, and good dog!

Similar Posts: