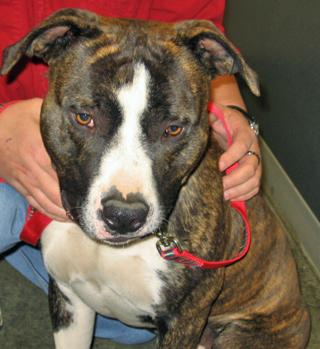 Meet Harley! This cutie-pie is currently living in foster care in Colville, Washington, courtesy of Colville Pet Rescue. Here's what their website has to say about him:

HARLEY is a 2 year old American Pit Bull Terrier.  Flashy brindle and white color, he weighs in at a hefty 80 lbs.  The average life expectancy of an American Pit Bull Terrier is about twelve to fourteen years making them one of the longer living large breeds.  Pit Bulls are generally friendly, even around strangers. According to the UKC, "aggressive behavior toward humans is uncharacteristic of the breed."  The American Pit Bull Terrier is a good-natured, amusing, extremely loyal and affectionate family pet, which is good with children and adults. Almost always obedient, it is always eager to please its master. It is an extremely courageous and intelligent guard dog that is very full of vitality. Highly protective of his owners and his owner's property.
If you're going to be near Washington, why not contact Colville Pet Rescue and ask to meet Harley and all of his friends. Drop an e-mail to [email protected] or call 509 684-9710.
If you're somewhere else, check out PetFinder's Shelter Center to locate adoptable dogs near you.
Until next time,
Good day, and good dog!
Similar Posts: