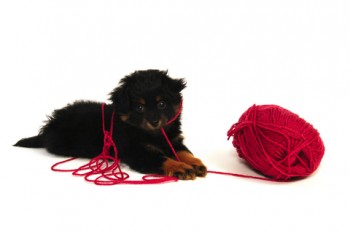 We all wish we could keep our dogs with us 24 hours a day, but most of us work for bosses who insist we come to work to actually get something done other than playing with our best friends.  So, how can you keep your dog entertained while you're gone?  Please note, for some of these, the entertainment value continues even after you get home.
10.  Leave the bathroom door open so your dog can unwind all the toilet paper and shred it.
9.  Install a doggie door that lets out into a fenced area where the dog can play.  Some doors are now made with a magnet lock that releases only when triggered by a chip in your pet's collar to prevent break-ins.
8.  Put your child's noisiest stuffed squeaky animal within reach so the dog can rip out the squeaker and leave a snowstorm of fiberfill behind.
7.  Leave the stereo or TV on.
6.  Put a miniscule drop of peanut butter in a paper bag.  Fill the bag with anything.  See how many pieces are scattered around your house while your dog tried to find the peanut butter.
5.  Provide lots of toys and bones.
4.  Get the dog a playmate – another dog works best, but a cat or even a parrot might do in a pinch.
3.  Go home on your lunch hour to walk the dog.
2.  Have a friend or neighbor visit the dog at least once a day.
1. Kong Wobbler.  Fill it with treats that are just slightly bigger than the opening.  Your dog will spend all day trying to get every last treat out of it.
Until next time,
Good day, and good dog!
Similar Posts: