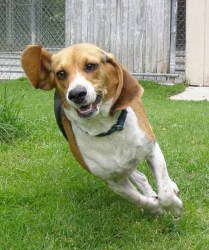 Meet Tickle! Isn't that a great name for a dog? She is currently living with the Luckydog Animal Aid Adoption Program in Arlington, VT. (I had to pick this shelter in memory of my brother's dog, Lucky.) Anyways, here's what we know about Tickle:

Tickle is a young girl with great manners and a fun side. She is unusually quiet for a Beagle and quite calm although, as you can see in the pictures, she also enjoys a good romp. She is very gentle and sweet and a bit timid at times but responds well to a happy voice to help her over her moment of unsureness. She is very clean in her run as well as tidy with her bedding. She LOVES to run in the yard, tossing tiny apples in the air and then pouncing or rolling on them- silly girl.
If you'd like to meet Tickle and all of her friends, shoot an e-mail to [email protected] or call 802-375-6121.
If you don't happen to be near Vermont, check out all of the adoptable dogs available on PetFinder's Shelter Center.
Until next time,
Good day, and good dog!
Similar Posts: