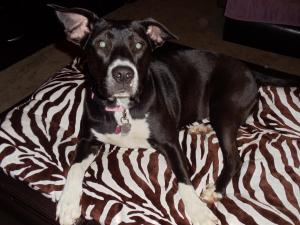 Meet Jazmine!  This beautiful American Staffordshire Terrier / Labrador Retriever mix is currently living in foster care with K9 Angels in Jonesboro, GA.  Here's what their website has to say about this darling:
Jazmine is a wonderful well behaved baby girl . She just wants to be loved . I promise this is the sweetest dog ever and would make a great family member. She loves to go for walks , rides and give kisses. This girl is a great family dog. I bet if you fostered her for a week you would adopt her. She is that great. She has love for everyone and wants to please you . She likes to play and does great with other dogs and children. She is a Baby Doll.! Do not miss out on this baby girl !!!! Jazzie is also potty trained….
If you'd like to meet Jaz and all of her friends, contact K-9 Angels at 770-957-1115 or fill out an adoption application.  Or, you can send an e-mail note to [email protected]
If you're not near Georgia, check out PetFinder's Shelter Center to find an adoptable dog near you.
Until next time,
Good day, and good dog!
Similar Posts: