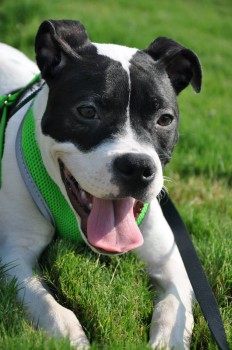 Meet Saint! This handsome boy is being fostered in Collierville, Tennessee by Guardian Angel Pet Rescue. Here's what their website has to say about Saint.

This adorable face belongs to a 5-month-old American Bulldog mix puppy. Saint was one of two siblings that were complete surprises as the veterinarians kept telling us that their mom was not pregnant until she gave birth to the first one in a room at emergency vet and then one in the car going home. The sibling only made it a few weeks. But Saint is a healthy bouncing baby boy. He is very sweet with a wonderful temperament. He gets along great with other dogs and cats also. He is current on vaccinations and scheduled for neuter in near future. Saint would make a great companion for an experienced dog owner who wants a very playful and active puppy. Saint weighs approximately 30 -35 lbs. at this time. He is crate trained and on his way to being completely potty trained.
If you're going to be near Tennessee, why not contact Guardian Angel Pet Rescue and ask to meet Saint and all of his friends. Call 901-406-3488 or fill out an online application.
If you're somewhere else, check out PetFinder's Shelter Center to find adoptable dogs near you.
Until next time,
Good day, and good dog!
Similar Posts: