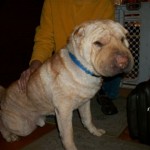 Meet Shin-Soo. I had to pick him this week because Shin-Soo Choo is my favorite player on our red-hot Cleveland Indians team. But I digress. Shin-Soo (the dog, not the baseball player) is a resident of Wisconsin, currently living in a foster home affiliated with Shar Pei Savers rescue in Beloit. Here's what their website has to say about this beautiful boy.
He has the most beautiful eyes that are ringed in black.  Nice long whiskers that are quite blonde.  Good companion for someone who does not want a real active dog, though he does love his walks.  He is very good on a leash.  He is very good with other dogs.  He was loose at a facility around cats, and showed only passing interest in them.
If you can't adopt me, would you please, please, please become my Guardian Angel?
Age: 6-7 years Weight: ~35 lbs Adoption Fee: $175.00
If you're going to be near Beloit, why not contact Shar Pei Savers and ask to meet Shin-Soo and all of his friends.  Drop them an e-mail at info AT SharPeiSavers DOT com.
If you're somewhere else, visit PetFinder's Shelter Center to locate adoptable dogs in your area.
Until next time,
Good day, and good dog!
Similar Posts: