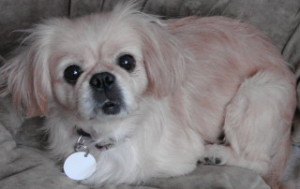 Meet Pixie!  This beautiful Peke is living in foster care with Senior Dogs for Seniors in Chesterfield, MO.  Here's what their website has to say about her:
Pixie is beautiful pekingese about 5 years old. She is well behaved in the house and loves to sit on your lap.
Our mission is to place older dogs in the loving homes of older people in the St Louis area. We do, however, take in dogs of all ages and adopt to people of all ages. We do home visits and ask for a $200 adoption donation for adult dogs and $300 for puppies.
We are at the Kirkwood Petco every Saturday from 10 am to 2 pm. This store is located on Lindbergh just north of I-44. Turn left at the first major stoplight.
If you're near Missouri, why not contact Senior Dogs for Seniors and ask to meet Pixie and all of her friends.  Call 636-458-1892 or drop a line to [email protected]
If you're somewhere else, check out PetFinder's Shelter Center for adoptable dogs near you.
Until next time,
Good day, and good dog!
Similar Posts: