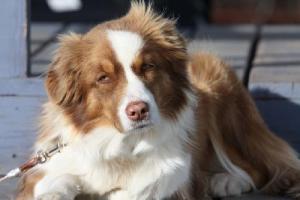 Meet Koda! This wonderful dog is staying with RezQ Dogs in Dodson, Montana. Here's what their website has to say about her.

Meet Koda! This beautiful girl is medium to high energy and needs a home or foster of her very own. She loves to be with her people and is pretty well mannered. She can be a little leery of strangers, but warms up quickly. She gets along with other dogs (cats unknown) and would love the opportunity to show you what a great companion she can be! Koda was bred to work livestock, and will not be happy without a lots of activity or a job.
RezQ Dogs is a volunteer organization located in north-central Montana, committed to helping the unwanted and abandoned dogs from the Fort Belknap and Rocky Boy Indian reservations.
If you are near Montana, why not contact RezQ Dogs and ask to meet Koda and all of her friends. Email [email protected].
If you're somewhere else, check out PetFinder's Shelter Center to find adoptable dogs near you.
Until next time,
Good day, and good dog!
Similar Posts: