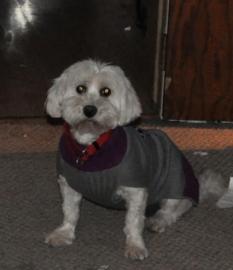 Meet Dolly! This beautiful 6-year old Havanese mix is currently living in foster care with Critters Companion in Abrams, Wisconsin. Here's what their website has to say about her.
Dolly is a shy dog, rescued from a puppy mill. She is very sweet and loves other animals. With patience, she will get used to her human companions and will also check on them to make sure they are still around! Dolly does like structure, so having a routine is helpful for her. She is being housebroken, but she will go potty every time she is taken outside. She had a dental and a benign mammary mass removed in April 2012. Dolly will need routine checkups due to her age and possibility of new mammary masses forming. Dolly's breed is an estimate based on her looks, and since she is not a standard for any specific breed, we have classified her as a mix. Each pet has been microchipped, vaccinated, and spayed. A cat/dog care dvd, Science diet food, Pet naturals treats and 30 days of pet health insurance is included in adoption. A background check via WCCA, reference and vet check, and home visits may be completed prior to adoption. Thank you for your interest.
If you're going to be near Wisconsin, contact Critters Companion to arrange to meet Dolly and all of her friends. Call 920-826-2320, send an e-mail to [email protected] or fill out their online adoption application.
If you're somewhere else, check out PetFinder's Shelter Center for adoptable dogs near you.
Until next time,
Good day, and good dog!
Similar Posts: