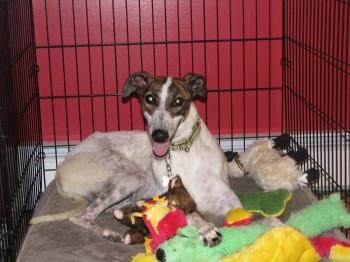 Meet Scarlett!  She is currently being fostered by the Connecticut Greyhound Adoption group in Avon, CT.  Here's what their website has to say about this beautiful girl.
Scarlett (sister to Bauer and Marcus) is a very curious and alert little girl who loves to go for walks and meet new people, especially kids. She has blended into her home life very well, and absolutely loves laying in her doggie pool when she needs to relax and cool off.  Scarlett was born in early November, 2009 and raced under the name of Saybrook Gal, with ear tattoo number 119G-52218.  She is white and brindle, and weighs 58 pounds.  She is good with kids and cats.  Racing data available.
If you're going to be near Avon, why not make an appointment to meet Scarlett and all of her friends.  Call 860-836-5049 or send an e-mail to [email protected]
If you're somewhere else, check out PetFinder's Shelter Center for adoptable dogs near you.
Until next time,
Good day, and good dog!

Similar Posts: