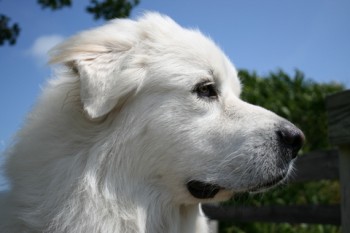 Did you see video footage of Biscuit's rescue from the frozen White River in Indiana yet?  It was featured on the Today Show this morning and can be seen here.
Biscuit, a Great Pyrenees rescue dog from Indianapolis, ran away from herfoster parents during a park outing.  After being hit by a car during his two-day excursion, she ventured out onto the ice and got stuck. 
She was rescued by firefighter Rick Hines and sent to the vet, where they found a broken leg and a few lacerations, as well as a bad case of road rash.  
Indy Great Pyrenees Rescue is trying to raise funds for the surgery Biscuit will need in order to get her ready for adoption.
Please watch the amazing video and see if you can help out.
Until next time,
Good day, and good dog!
Similar Posts: