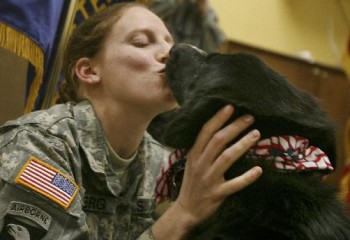 Photo credit:  Star Tribune 
We posted a few months ago about Ratchet, the dog rescued from a burning pile of rubbish in Iraq by Army Specialist Gwen Beberg.  With the help of about 70,000 people who signed an online petition urging the Army to loosen regulations and allow soldiers to bring home dogs from war zones, Spec. Beberg was able to send the dog home to her parents.  GOOD NEWS!  Beberg has now made it home safely from Iraq as well.
The Minneapolis Star Tribune is reporting that the Specialist came home on January 18th and was happily reunited with Ratchet at the local VFW hall. You can see the whole story here..

Similar Posts: