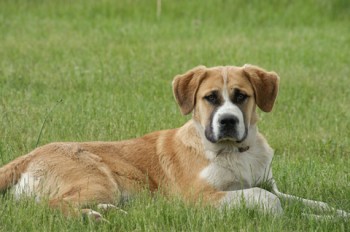 For the most part, dogs are meat-loving carnivores.  In fact, their jaws aren't even made to move any way other than up and down, making it impossible for them to grind up grains in their teeth.  So, why do they insist on eating grass?
Although no one has the complete truth, experts have several theories.  Some say that eating grass is a hold-over from the dog's day as a wild animal.  Although they preferred meat, they were scavengers, eating whatever they could find to survive.  Sometimes that included grass.
Others say that classifying dogs as carnivores is a misnomer and that they are truly omnivores, like we are.  If they don't get anough grain in their diets, they simply turn to your lawn to satisfy their cravings.
A third theory is that a dog uses grass to cleanse his stomach.  We've all seen our dogs eat grass, then throw up, but the question is whether they need to throw up because they have eaten grass or whether they eat grass to help them throw up.  Kind of the canine equivalent of sticking your finger down your throat.
Should you worry about it if your dog eats grass?  According to the pet food experts at Pedigree, there are only two causes for concern.  If your dog has never eaten grass before and now is suddenly eating it all the time, you need to check with your vet to find out what may have changed.  Also, you need to be concerned if you have treated your grass with pesticides or other chemicals that may be harmful to your dog.  From the time you treat until you water the grass or until it rains, you should not let your dog out on the treated portion of the yard.  Consult the bag or can of chemicals to find the manufacturer's suggestions for when it is safe to let your pets out on treated grass.
Similar Posts: