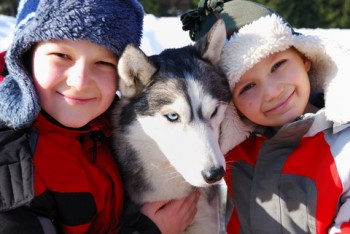 Last week, we gave you the top half of the list of reasons why dogs are better than kids.  Below is the conclusion of the same list.
10.  No one will get mad at you if you tattoo your dog.
9.  The older a dog gets, the more he likes you.
8.  Dogs don't jump on the bed.  They simply crawl in beside you and shed all over you while keeping your feet warm.
7.  When dogs don't obey you, it's because they just don't understand English, not because they're ignoring you.
6.  When a dog runs away, you can sometimes catch him by grabbing his tail.
5.  Your relatives won't hand your dog back to you with a dirty diaper.
4.  Dogs help you clean the litterbox.
3.  When your dog comes into your bedroom at an intimate moment, you don't have to tell him you are just "wrestling".
2.  Dogs don't roll their eyes at you when you tell them you had it much rougher when you were young.
1.  By the time your dog enters adolescence, he is neutered.
Until next time,
Good day, and good dog!
Similar Posts: