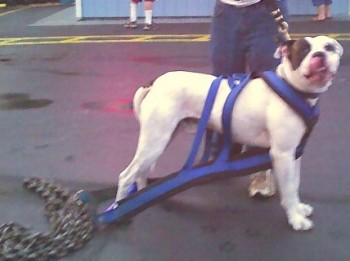 OK, I know I spend too much time at the ice cream stand, but it's where I get my best dog stories!  We pulled in tonight and saw this dog with a harness, pulling a huge chain behind him.  Our first thought was "who would make their dog pull a chain around?"  You know me, I had to ask.
Turns out this 2-year old American Bulldog, Barak, is in training to maintain his status as a champion weight-puller. That's a new one on me – I had not heard of this kind of competition before.
On July 4th, Barak pulled 2,590 pounds to earn his NKC Weight Pull 3, the highest classification NKC offers.  And he is working on his UKC championship points.
His daily workout includes pulling a 50-pound weight for 2 miles, stopping for ice cream at the half-way point.  His friend, Joe, says he is starting on agility training as well, but they tried dock diving and Barak wasn't too happy about the water involved in that sport.
BTW, the dog was named BEFORE the presidential election, if you were wondering.
Next up for Barak:  The Sun Beau Valley show in Ravenna, Ohio, presented by the Carnation City Kennel Club, on September 5 – 6.
Until next time,
Good day, and good dog!

Similar Posts: