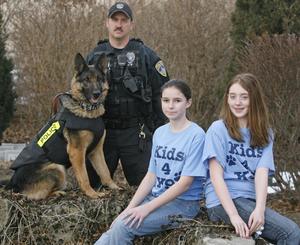 When Samantha Juskiw and Paige Hoffman saw a police K-9 demonstration at a park near their home, they decided to hold some fundraisers to buy the dogs new kevlar vests, as the ones they were wearing were in need of replacement.  A kind, but not truly unique gesture, until you realize that these good Samaritans are only in 7th grade!
According to a story in Saturday's Canton Repository, the girls used traditional fundraising efforts such as selling soda pop at a garage sale, and having a bake sale.  In addition, they have sold decorated containers of dog cookies and have worked for a local business.  Future events include a roller skating fundraiser and a bowl-a-thon.
Samantha and Paige formed a group known as Kids-4-K9s, which currently has about 15 members in grades K – 12.  They have raised nearly $500 for the Police K-9 Association, with a goal of raising $6,300 to purchase new $900 vests for all seven dogs currently handled by the Association.
What a great service to the community these young ladies are providing!
If you can help, please make out a check to Kids-4-K9s and send it to 1429 Opal St., Louisville, Ohio 44641.  Let's show these kids how much we support their efforts to make the world a safer place for working dogs!
Until next time,
Good day, and good dog!

Similar Posts: