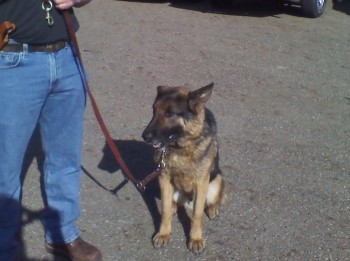 One of the other hats I wear (when I'm not wearing my "Blogger Extraordinaire" hat) is that of a rape crisis educator.  I've been teaching some classes about law enforcement's response to sexual assault at the Canton Police Department, and one of my students last week was a K-9 officer who works with Risk, pictured here.
Risk is 6-years old and is Officer Monter's 3rd K-9 partner. He recently served as the "poster boy" for a campaign by students from Louisville Middle School to raise funds for K-9 bulletproof vests.
Risk has been off the streets recovering from a fall and the surgery he subsequently needed, but is slated to go back to work today.  I feel safer already.   Welcome back, Risk!
Until next time,
Good day, and good dog!

Similar Posts: