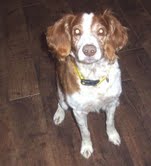 Meet Ricky! Ricky currently resides at the New England Brittany Rescue in Cummington, MA. Here's what he has to say for himself.

Hi! I'm Ricky and I'm so pleased to meet you! If you don't mind, I'd like to tell you a little about myself. I'm about 3 years old, and my foster mom says that I'm perfect! Really? Perfect? Well….if she says so. I'm healthy, about 5-6 years old, friendly, house trained, crate trained, good with other dogs, good with cats and fine with children. Wow! That DOES sound pretty good, doesn't it? I'm very affectionate too…cuddling up suits me fine. My previous family just didn't have enough time for me, so I'm looking for a new place to call home. I'm hoping maybe it can be with you? I have been neutered, am up to date with my vaccinations, am heartworm negative and on prevention and I'm microchipped too. If you are interested in adopting a sweet guy like me, please fill out an adoption application at the New England Brittany Rescue website, www.nebrittanyrescue.org. We look forward to hearing from you.
If you're in New England, why not call New England Brittany Rescue at 781-275-0630 or send an e-mail to clyk9sATgmailDOTcom to make an appointment to meet Ricky and his friends.
If you're somewhere else, stop by PetFinder's Shelter Center to find adoptable pets in your area.
Until next time,
Good day, and good dog!
Similar Posts: