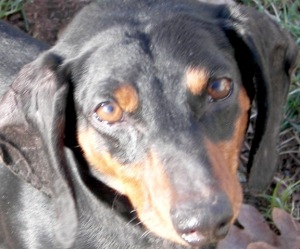 Meet Scooby! Ya' just gotta love a dog named Scooby. He is currently in foster care with Forever Home K9 Rescue in Barium Springs, NC. Here's what their website has to say about this cutie-pie.

Scooby is a handsome black and tan short-haired Dachshund who was rescued as an owner-surrender from Animal Control along with his pal Dixie. We were told that he is 7-years-old, but his foster mom says he acts like a much younger dog, as he is still very frisky and enjoys running and playing. Scooby is a very social boy and gets along with everybody. He came into rescue with his buddy 'Dixie', and they do enjoy each others' company. Could Scooby and Dixie be your perfect little canine companions? Since Scooby and Dixie were together before in their original home, we would love to see them live out the rest of their lives together. They get along great and love each other.

Scooby is neutered, microchipped, current on his Rabies, DHP/Parvo, and Bordetella vaccines, tested negative for heartworms, and is on heartworm and flea prevention.
Forever Home Canine Rescue offers a 3-week trial period to ensure that both the family and the pet are happy with the results of the adoption. We feel that this is especially important when there are other canine or feline members of the family.

If you're going to be near North Carolina, why not contact Forever Home and see about meeting Scooby, Dixie, and all of their friends. Call 704-528-5394 or drop an e-mail to [email protected] or you can fill out an online adoption application.
If you're somewhere else, check out PetFinder's Shelter Center to locate an adoptable dog near you.
Until next time,
Good day, and good dog!
Similar Posts: