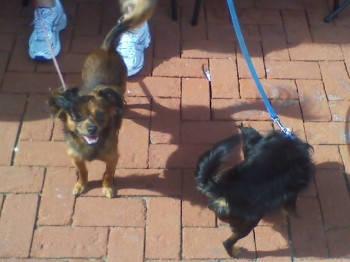 If you read this blog often, you know there are two things I look for when I travel:  ice cream stores and, of course, dogs.
Well, I found a two-fer in Gahanna, Ohio this weekend after watching Billy run the 100-m dash and Robbie do his weight-lifting at the State Summer Olympic Games for Special Olympics – Ohio.  Billy took fourth, and Robbie scratched with a pulled back muscle.  (Better luck next year.)
Anyhow, we naturally had to look for ice cream after the contests, and we found this cute pair outside the Cold Stone Creamery in Creekside Plaza.  The brown one facing the camera is Victor, and the shy black one is Sammy, named for Sammy Hagar.
I thought they were long-haired Dachshunds (what do I know – I'm only the Dog Lady!)  but their parents set me straight in a hurry – they are actually Russian Toy Terriers.  Too cute!
Until next time,
Good day, and good dog!
Similar Posts: