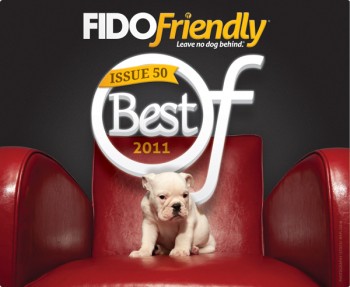 Marsing, ID – FIDO Friendly magazine, leading dog travel experts since 2001, announced the 50 most FIDO Friendly cities, daycares, explorers, canine chefs, hotels, and more in the world of dogs.
"The best of list is the crème de la crème of all things dog," Publisher Susan Sims remarked. "With our 50th celebratory issue featuring cover girl Betty White, we are excited. In dog years though, we're still puppies at heart. The roads and skies we've traveled over these past ten years have been adventurous, curious, enlightening and never boring."
Now entering our 11th year of publication in 2011, FIDO Friendly magazine includes the very latest hotel and destination reviews along with health and wellness topics, dog training advice, rescue and feel-good stories, contests, and the latest pooch products to hit the market.
Visit Fido Friendly Magazine on FaceBook.
Come celebrate with us as we continue to Leave no dog behind®.
Until next time,
Good day, and good dog!
Similar Posts: